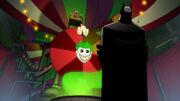 Joker's Fun House was the Joker's personal Fun House that he used to torture the Super Friends with.
Much of the house was in his clownish image, with Hall of Mirrors and deathtraps all over the place.
No data available.
In 2010, Joker took over the Hall of Justice during its' renovation project. He was able to trap Superman and Batman in what he called the "Joker's Playhouse," which was very similar to Joker's Fun House, as it was full of dangerous deathtraps.[2]
Circa 2015, the Joker trapped Robin in a version of his Fun House called the Joker's Laff Factory. Batman had to rescue Robin from certain death. They both jumped out on time before the whole place went up.[3]
Notes
References
External Links
Community content is available under
CC-BY-SA
unless otherwise noted.