Jeff Altman
Birthname: Jeff Altman

Born: August 13, 1951

Birthplace: Syracuse, New York

Years Active: 1976–present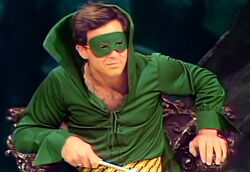 Jeff Altman is an American stand-up comedian who has appeared as a guest on Late Show with David Letterman 40 times, most recently on October 7, 2011. He has also had numerous acting roles in movies and television such as Dr. Gene Splicer in Tiny Toon Adventures, and is perhaps best known for his recurring role as Hughie Hogg, the nephew of Jefferson Davis Hogg, on the popular television series The Dukes of Hazzard.
Altman had a starring role as the host of the short-lived NBC variety show Pink Lady and Jeff in 1980. Later in the decade, he became the in-house comedian of Solid Gold, where his characters included Al Punker, fast-talking proprietor of "Al Punker's Music Barn," the "music vampire Count Downula," and the ex-boxer Leonard Moon, the last of whom would admit that he "don't have the brains of a ice cube" and claim, "I am the Solid Gold music critic. Tonight, my subject is music." Altman has also directed many sitcoms and in the middle 1980s, he was the spokesman for Arby's restaurants. He also has been the (uncredited) host of the defensive driving course available through Blockbuster Video.
Altman was also on the NBC series Nurses in the first season (1991-1992). He was written out as the show was re-worked for its second season.
A regular feature of his stand-up act included a comical impression of his father. He continued to find his Nixon impression humorous well into the Eighties.
He is also the actor who portrayed the Weather Wizard in the live-action Super Friends specials known as the Legends of the Superheroes (1979), where he appeared in both The Challenge and The Roast.
References
↑ As seen in The Challenge.
Community content is available under
CC-BY-SA
unless otherwise noted.