Conjectural Information
The title or other information in this article is conjectural.
The information here does not contribute anything canonical in the SuperFriends Universe.
It has been conjectured based on information from the known DC Universe at the time.
Please see the reasons in the "Background Information" section below, and/or the relevant discussion on the talk page.

(This template will categorize articles that include it into the "Conjectural" category.)

Jax-Ur was a scientist from the planet Krypton.
Background Information
In the parallel-universe of Earth-1A, shortly before the destruction of Krypton, a team of unnamed scientists (presumably Jax-Ur, etal) were sent to the Phantom Zone when they attempted to strand the Science Council in outer space. His crime led to a new law being developed that would make space travel illegal.[1]
In the parallel-universe of Earth-One, the mad-scientist Jax-Ur, was sentenced to the Phantom Zone fro destroying an inhabited Kryptonian Moon during an experiment.[2]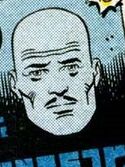 Notes
Jax-Ur made his first appearance in Adventure Comics, #289 (October 1961).
He was created by Otto Binder and George Papp.
Appearances/References
SuperFriends TV Show (1973-85):

References
↑ As revealed in Adventure Comics. #293 (February 1962).
↑ As seen in the Season 1 episode: The Planet-Splitter (December 15, 1973).
Community content is available under
CC-BY-SA
unless otherwise noted.