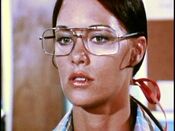 Isis is an ally of Captain Marvel, and was a member of the Freedom Force. She is a science teacher and she once was a substitute teacher at Hero High. Her elemental powers were given to her by the Goddess of the same name.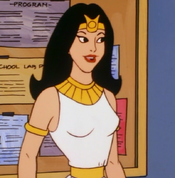 History
While on an archeological dig in Egypt, High school science teacher Andrea Thomas discovers the mystical Amulet of Isis. Upon wearing it, she discovers that she is granted all of the mythical goddess' powers. Using her new-found abilities, she becomes the super-heroine Isis. She has a close friendship with fellow teacher Rick Mason, and she is very fond of her students Cindy Lee and Rennie Carroll.
During her career as a superhero, she has teamed up with Captain Marvel, and helped out many in need. Eventually she travels back in time to ancient Egypt, where she joins the Freedom Force, a team of superheroes from a variety of different eras and backgrounds. And while she's in the present, she still spends her time teaching in her secret identity of Andrea Thomas. She also takes the position of substitute teacher from time to time, as she has on at least one occasion at Hero High.
Powers and Abilities
Pedagogy: Andrea Thomas is an accomplished chemistry teacher.
Archaeology: It is fair to assume that Andrea possesses at least a passing knowledge of archaeology. This was revealed when she first discovered the Amulet of Hatshepsut while on an excavation in Egypt.
Chemistry: Andrea is an expert in the scientific field of chemistry.
Appearances
The Kid Super Power Hour with Shazam!
Notes
Isis was originally created by Filmation but she later appeared in the comics.
Her powers are similar to Shazam's
Isis first appeared in the live action series "The Secrets of Isis," where she's played by Joanna Cameron.
There were a number of crossover episodes on the Shazam! series as well.
External Links
References
↑ This is conjecture based upon the fact that Captain Marvel is always nearby. In real life, both The Secrets of Isis and Shazam! were filmed in California.
↑ As she appeared in The Kid Super Power Hour with Shazam!
Community content is available under
CC-BY-SA
unless otherwise noted.