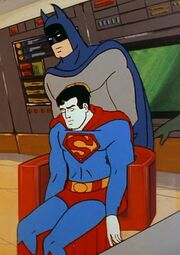 An invalid was a person who was medically sick or crippled, usually confined to bed and unable to leave their home, or unable to walk. They may also have been under health care at a hospital or similar facility.
Whenever Superman was exposed to Green Kryptonite, he was reduced to the state of an invalid.[2]
References
↑ As seen in the Superfriends season one episode The Menace of the White Dwarf (1973).
↑ As told by the narrator in The Menace of the White Dwarf.
External Link
Community content is available under
CC-BY-SA
unless otherwise noted.