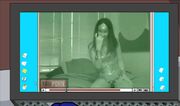 The Internet was a global network of computers that was a key part of communication in the 20th and 21st centuries.
YouPorn and TMZ were both websites that coul be accessed via the internet.[2]
When Marvin was talking to Zan and Jayna at the Downtown Video Store, he told them that he and Wendy's band had just got signed on to a major label. He then tells them to check out their website.[3]
In a parallel universe, Wonder Woman's sex tape was leaked onto the internet. The link was tits-tits-tits.com.[4]
Superman later uploaded a video to the internet, to TMZ, of himself masturbating to Wonder Woman's video.[5]
References
External Links
Community content is available under
CC-BY-SA
unless otherwise noted.