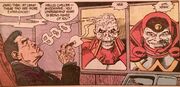 Intergang was an international criminal organization that was led by the Metropolis crimelord named "Ugly" Mannheim.
In truth however, Mannheim was actually just a lackey of Darkseid, whom he took his orders from.
Due to being associated with Darkseid, Intergang was often granted the use of technologically advanced weaponry from Apokolips, allowing them to be a better match for opponents such as Superman.
Membership
Appearances
Notes
References
External Links
Community content is available under
CC-BY-SA
unless otherwise noted.