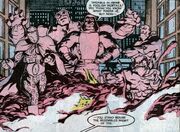 The Injustice League was a super team composed of any of the Earth's most sinister supercriminals.
It was intended to be a criminal version of the Justice League, with villainous members rather than superheroes.
Membership
When the a new lineup of the Injustice League gathered together in 1990, led by Major Disaster, they had big plans to rob a New York City museum, with the intention of stealing the Dooley Diamond.
These plans fell through however, because when they arrived at the soon-to-be crime scene, a group of terrorists were there with an agenda of their own. This angers the Injustice League and they fight the terrorists and win.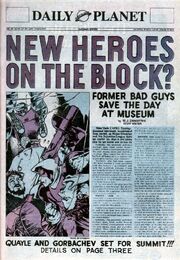 The media see this incident in an unexpected manner, because news reports started to make it seem like the Injustice League had became superheroes, turning from away from crime and saving people from terrorists, as no one suspected that the reason they were there to begin with was to rob the place.
They decide to go legit and offer their services to the Justice League. They take their idea to the Justice League Embassy. Here, Major Disaster talks to Maxwell Lord and Martian Manhunter about it. Lord realized that he needed to give G'Nort something useful to do in the Justice League, since mostly he caused more trouble than gave help; so he decided to send the Injustice League his way and thus a new branch of the Justice League International was formed: the Justice League Antarctica.[3]
Appearances
Notes
References
External Links
Community content is available under
CC-BY-SA
unless otherwise noted.