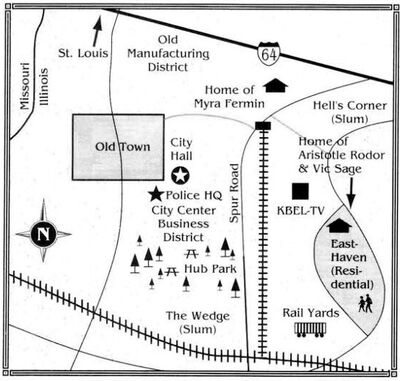 Hub City was a city in Illinois. The superhero known as Blue Beetle was originally from there, as was the Question. It is known for being one of the most crime-ridden cities in the United States of America.
Hub City, Illinois held the dubious distinction of having been voted the "Worst Place to Live in the U.S.A." five years in a row, according to a national magazine ranking. Hub City was settled in 1843 by Horatio Grubb, a successful Chicago gambler and political hack who sought to develop a little town he could call his own. Grubb's small settlement of his family and henchmen quickly gained a reputation as a safe haven for gamblers and con men. By the start of the Civil War, the area had grown into a thriving community and was known as the "hub" of crime and corruption in that part of the state. The town of 20,000 was riddled with dirty deeds, its civic government fueled by corruption and graft.
Following the Civil War, the state of Illinois stepped in to clean up Hub City. It was believed that the city's evil reputation reflected badly on the entire state. City leaders, including Horatio's son, Mayor Zachary Grubb, were indicted by the state district attorney, brought to trial on a shopping list of conspiracy, corruption, and fraud charge, and convicted. Still, the city was known for its' corruption, even on into the late 20th century.
Locations
Neighborhoods
Residences
Other locales
Natives
References
Community content is available under
CC-BY-SA
unless otherwise noted.