We're Getting Mutants in the MCU - The Loop
Play Sound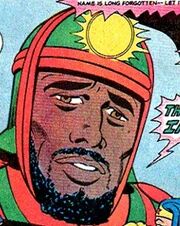 Homo Magi[2] is a term to describe a sub-race of magic-using humans. They are also known as Homo Magus[3] and the Hidden Ones.[4]
According to Doctor Mist, the Homo Magi evolved in a parallel but separate line, alongside Homo sapiens.[5]
Homo Magi are genetically compatible with normal humans, and are genetically identical to normal humans. The mysterious property that makes them homo Magi is somehow "dominant" like a gene, the child of a normal human and a Homo Magi will always be Homo Magi.
Known Homo Magi
Notes
The Homo Magi first appeared as "The Hidden Ones" in Justice League of America, Vol. 1 #164 (March 1979)
They were created by Gerry Conway and Dick Dillin.
The term, Homo magi, was introduced to DC Comics readers in the pages of Secret Origins, Vol. 2 #27 (June 1988), written by Jean-Marc Lofficier (credited as Ehrich Weiss), Randy Lofficier, and Roy Thomas.
Trivia
References