You may be looking for Green Lantern (SuperFriend / JLA Member).
You may be looking for Green Lantern (Justice Society of America).
Series 1 – 1984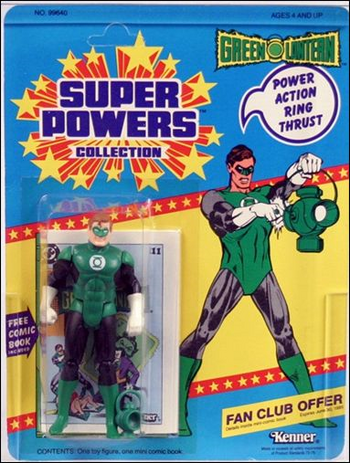 Name:
GREEN LANTERN
The Ringed Ranger


Origin:
Test pilot Hal Jordan was mysteriously taken from his plane one day by an eerie green glow. Brought to the crash site of an alien vessel by it's pilot, Abin Sur, Jordan was named to replace the dying Sur as Green Lantern, protector of space sector 2814. It was Jordan's noble spirit and force of will that led the ring to seek him out as a replacement. Green Lantern has a powerful ring that responds to the user's will, all-powerful except for an impurity which renders it unable to affect all yellow objects. Green Lantern's ring must be repowered every twenty-four hours from the battery that is linked to the central power source on the planet Oa.


Figure Stats:
This figure's power action allowed him to point his Power Ring in the forward direction, as if using it. This action was accomplished by squeezing his legs together.


Comments:
The Green Lantern figure was released in 1984 as part of the Super Powers Collection's first wave of figures. Green Lantern's mold would later turn up repainted as the Riddler, but the majesty still remains.


Action Figure Line
Super Powers Collection

Manufacturer
Kenner
Community content is available under
CC-BY-SA
unless otherwise noted.