Super Amigos

This page has material from the Super Amigos franchise. This includes any Superfriends or Super Powers material in the Spanish or Portuguese language. Although some material may be canon, others may be subject to dispute.
(This template will categorize articles that include it into the "Super Amigos" category.)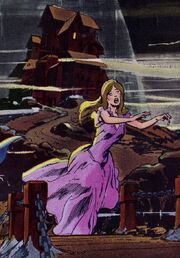 The Gothos Mansion was a mansion located outside of Gotham City.
At one point, Daphne Pennyworth got a summer job as a caretaker for a couple of kids at this mansion.
She worked for the owner, Clifton Heathrow. But things got a little strange when she came to the realization that the "kids" she was taking care of were actually not kids at all, but rather dwarves.
Things got even more sinister when Heathrow decided to sacrifice her to a demon known as Ballk, since her birthday occurred on the thirty-first of October at exactly midnight.
She is however, rescued by Batman, and he takes her away from that place forever.[2]
Residents
Appearances
References
↑ As seen in Batman # 227 (December 1970), which was reprinted in Super Friends # 25 (May 1987).
↑ As seen in Batman # 227 (December 1970).
Community content is available under
CC-BY-SA
unless otherwise noted.