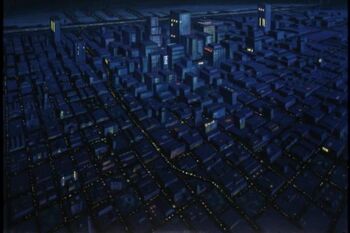 Gotham City was a city located in a large metropolitan area on the Eastern Seaboard of the United States.
It was under the protection of Batman and his proteges from the criminally insane supervillains, gangs, and mobs that littered its streets.
Metropolis was located 'right over the bridge' from Gotham City.[2]
The natives of the city were referred to as Gothamites.
Local Government
City Departments
Locations
Banks
Recreation
Colleges and Schools
Hills and Mountains
Scientific / Medical Facilities
Churches
Prison, Law Enforcement and Municipal Facilities
Museums
Newspaper publishers
Businesses
Districts/Neighborhoods
Military establishments
Streets and bridges
Miscellaneous
Residences
Local sports teams
Images of Gotham City
Notes
Appearances in Other Media
Coming Soon!
External Links
References
Community content is available under
CC-BY-SA
unless otherwise noted.