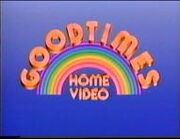 GoodTimes Home Video was the home video manufacturing division of GoodTimes Entertainment.
Kids Klassics was one of their holdings, which focused on the releases of animated cartoons, such as public domain Looney Tunes and Disney cartoons.
They also released a few Superfriends related videos.
This company went under along with its' parent company in July 2005, due to bankruptcy.
Divisions
References
External Link
Community content is available under
CC-BY-SA
unless otherwise noted.