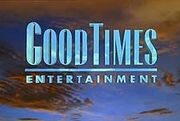 GoodTimes Entertainment was a media entertainment company.
It was founded in the year 1984 by Kenneth, Joseph and Stanley Cayre.
It's headquarters was in Manhattan, New York.
The company also had a distribution facility and a duplication facility in New Jersey.
GoodTimes Home Video was a division of GoodTimes Entertainment, which specialized in the production of videos, such as the videos released through Kids Klassics.
In July of 2005, the company filed for bankruptcy and then closed its' doors, marking the end of the company that had lasted twenty-one years.
Divisions
References
External Link
Community content is available under
CC-BY-SA
unless otherwise noted.