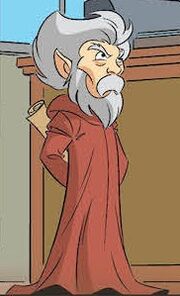 Gnomes were a race of dwarf or fairy-like humanoids that were native to Earth, dwelling underground.
The Super Friends once referred to Mr. Mxyzptlk and Bat-Mite as gnomes.[2]
In the Scoobyverse, Multi-Man, an enemy of the Challengers of the Unknown, disguised himself as the Gnome King.
Powers and Abilities
Known gnomes
References
↑ As seen in Scooby-Doo Team-Up # 30 (2017).
↑ As seen in the comic story: Last Imp Standing! (2000).
External Link
Community content is available under
CC-BY-SA
unless otherwise noted.