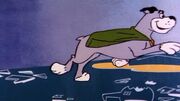 Glass is a transparent substance made from sand.[2] that is a non-crystalline solid. The most common form of glass is the glass used for windows, and drinking cups,[3] as well as eyeglasses.
Glass is the one substance that Mr. Mergen's chemical solution was unable to have any effect on.[4]
Noah Tall and Twisty placed the Krim family in a glass box when they kidnapped them.[5]
According to Mr. Vanderbulge, the glass container that his sapphire was kept in was impervious to bullets, heat and drills.[6]
References
External Link
Community content is available under
CC-BY-SA
unless otherwise noted.