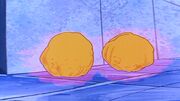 Gas is one of the four fundamental states of matter (the others being solid, liquid, and plasma). A pure gas may be made up of individual atoms (e.g. a noble gas or atomic gas like neon), elemental molecules made from one type of atom (e.g. oxygen), or compound molecules made from a variety of atoms (e.g. carbon dioxide). A gas mixture would contain a variety of pure gases much like the air. What distinguishes a gas from liquids and solids is the vast separation of the individual gas particles. This separation usually makes a colorless gas invisible to the human observer.
Types of gas
References
↑ As seen in The Shamon U.
External Links
Community content is available under
CC-BY-SA
unless otherwise noted.