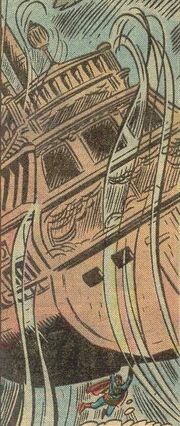 A Galleon was a type of sailing ship mainly used as a cargo carrier from the 16th to the 18th centuries.
Although they were common among nations all over Europe, most of them were Spanish in origin, and they were often times armed with cannons.
Circa 1974, Superman used his super strength to raise a Spanish galleon to the surface of the Atlantic. He was unable to raise it completely however, because some strange radiation caused his strength to drain.[2]
In 1980, when Wonder Woman and the Atom were sent back to 1667 in the Time Elevator, they find themselves on a wrecked Spanish galleon with Blackbeard on board![3]
Appearance
References
External Link
Community content is available under
CC-BY-SA
unless otherwise noted.