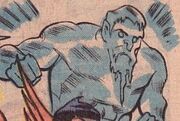 The Frost Giants were a race of cryokinetic Humanoids native to the Earth.
Although they were far more common during the Age of Sorcery, by the 20th century, they were more or less near extinction.
There were still a few areas of Skartaris that were populated by Frost Giants, but these were few and far between.
It should be noted, that not all Frost Giants, despite their name, were actually giants, as some of them were no larger than Humans. They were presumably genetically related to trolls, and they were at times even called trolls.
Other names often attributed to their species was Jötunn, Risi, and Thurs.
Zan once took the form of a Frost Giant when Jayna took the form of a sphinx.[2]
Appearance
References
External Link
Community content is available under
CC-BY-SA
unless otherwise noted.