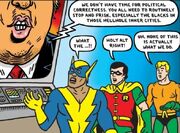 Frisking was when a security or police officer pats down a person so as to locate any possible concealed weapons.
This action was considerably different than groping, which was a sexual crime, but it was often confused with that, especially if the officer doing the frisking was a bit more "invasive" to the touch.
This section is not yet written.
Circa 2017, after Wonder Woman told him how he had groped her, President Donald Trump told her and the other Super Friends that routine frisking was necessary at times, especially in black communities.[2]
Appearance
References
External Links
Community content is available under
CC-BY-SA
unless otherwise noted.