Line 4:
Line 4:
 

}}

 

}}

 

[[File:Cold_Gun_2.jpg|thumb|left|150px]]

 

[[File:Cold_Gun_2.jpg|thumb|left|150px]]

−

A '''freeze gun''' (also called '''Cold gun''', '''Ice gun''' and other names) was a type of [[ray gun]] that could shoot [[laser beam]]s capable of generating [[cold]] rather than [[heat]]. They were capable of generating completely [[freezing]] their target, thereby encasing them in [[ice]].

+

A '''freeze gun''' (also called '''Cold gun''', '''Ice gun''' and other names) was a type of [[ray gun]] that could shoot [[laser beam]]s capable of generating [[cold]] rather than [[heat]].

 
 
 
+

They were capable of completely [[freezing]] their target, thereby encasing them in [[ice]].

⚫
 
 
+
 
⚫
 
 
 

==List of freeze guns==

 

==List of freeze guns==

−

*[[Mr. Freeze's Freeze Gun]]

+

*[[ Freeze's Gun]]

 

*[[Captain Cold's Cold Gun]]

 

*[[Captain Cold's Cold Gun]]

−

*[[Icicle's Cold Ray Gun]]

+

*[[Icicle's Cold Gun]]

 
+
 
+

==References==

 
+

<references/>

 
+
 
+

==External Link==

 
+

*[https://en.wikipedia.org/wiki/Freeze_gun Freeze Gun] at [http://www.wikipedia.org/ Wikipedia]

 

[[Category:DC Comics]]

 

[[Category:DC Comics]]

 

[[Category:Equipment]]

 

[[Category:Equipment]]
---
Latest revision as of 22:20, 18 June 2019
Freeze Gun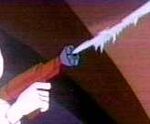 A freeze gun (also called Cold gun, Ice gun and other names) was a type of ray gun that could shoot laser beams capable of generating cold rather than heat.
They were capable of completely freezing their target, thereby encasing them in ice.
Captain Cold, Mr. Freeze, and the Icicle used freeze guns.[1]
List of freeze guns
References
External Link
Community content is available under
CC-BY-SA
unless otherwise noted.