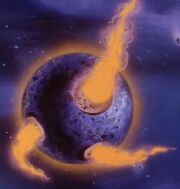 The so-called Fourth World is another dimension,[1] although some sources refer to it as a "closed galaxy."[2] The dominant alien species of the universe is the New Gods, which are natives of the planets New Genesis and Apokolips.
History
In this universe, there once was a planet called Urgrund, and it was ruled by a race now known as the Old Gods. Eventually the planet split into, and two planets formed into what is now known as New Genesis and Apokolips.
New Genesis is a world of peace and prosperity. The ruler of the planet is called the Highfather, who rules a kingdom of impressive beautiful paradise-like scenery.
Apokolips is ruled by Darkseid. It is a world of terror and misery. But even Darkseid's lowest and most mistreated servants; the Lowlies, are proud to serve him.
References
↑ As told in The Seeds of Doom (1985).
↑ As told in The Atlas of the DC Universe (1990).
External Links
Community content is available under
CC-BY-SA
unless otherwise noted.