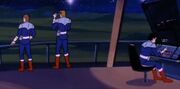 The Folians were the Humanoid inhabitants of the planet Folian and the entire Folian Sector.
Although their species was a technologically advanced race, with space travel, space stations and laser-like weaponry, there was still crime among their race, such as poaching.[2]
Physiology
Not much is known of their physiology, other than the fact that the males seemed to have darker colored hair, such as brown or black hair, while the females of the species seemed to have blond hair, at least from what was observed.
They seemed to be indistinguishable from Humans and many other Humanoid life forms throughout the Milky Way Galaxy.
This section has not yet been written.
Known Folians
Named
Names Unknown
References
Community content is available under
CC-BY-SA
unless otherwise noted.