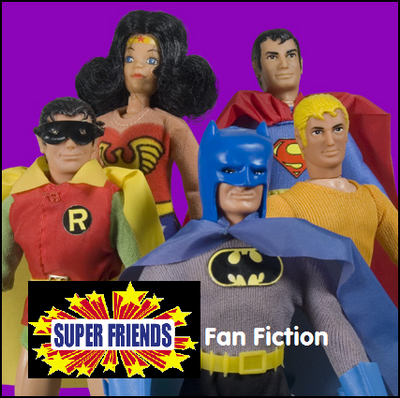 Welcome to the Super Friends Wiki's Fan Fiction page. Here, you can write your own stories set within the Superfriends reality of Earth-1A. Naturally, this is FanFic so it's not "official," but we do hope that anyone who wishes to contribute their work would do their best to stay true to the source material. However "Imaginary Stories" might be an exception. Remember to categorize FanFic articles you make as such. Above all have fun and start writing your stories!!
Episodes
The United Nations no longer support the Justice League, and there is concern that the U.S. Government will also be prompted to cease cooperation with them, which would mean that the JLA would no longer be a legal agency, and the world would view them as vigilantes. Although Colonel Wilcox insists he's doing everything he can to see that won't happen, the threat still exists, and to make matters worse, the Time Trapper has arrived from the future to kill Superman, and with him, the entire future!
Community content is available under
CC-BY-SA
unless otherwise noted.