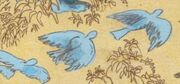 Exxorian doves were a type of animal that was native to the Jungle Zone on the planet known as Exxor, which was located in the galaxy of Nova 12.
They appeared to be blue-colored birds, very similar to Earthling varieties.
History unknown.
While on a jungle safari in a sedan chair through the Jungle Zone, Zan and Jayna, who would later be known as the superheroes known as the Wonder Twins; passed a few Exxorian doves as well as other animals.[2]
Appearance
References
Community content is available under
CC-BY-SA
unless otherwise noted.