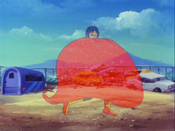 El Dorado is a Hispanic superhero and a member of the Justice League of America.
Background Information from Earth-1A
No true origin was given for El Dorado. He was knowledgeable about Pre-Columbian history (yet vague in his explanations). He also assisted the Super Friends whenever they were forced to enter unfamiliar ruins or areas in Latin America. He spoke broken English with an accent, sporadically substituting common Spanish words or phrases, such as adding words like "rapido" and replacing nearly every instance of "yes" with "si".
Powers
Episode Appearances
Notes
El Dorado was created solely for the Super Friends cartoons and has never appeared in a DC Comic.
He first appeared as a minor character in the 1981 animated shorts, and later in SuperFriends: The Legendary Super Powers Show as a full-time member.
He was from a non specified Latino nation was added as one of several attempts to encourage diversity among the characters. Ironically, despite the reasons for his inclusion, El Dorado, like the other original characters, is typically seen as an offensive stereotype today.
El Dorado is the only one of the original characters created for the SuperFriends series not to have a Ultimen counterpart. This was likely due to the fact that unlike the other original characters, El Dorado was basically a Latino version of Superman without powers built around a specific theme, leaving little to base an Ultimen counterpart on.
Trivia
El Dorado is the name of a mythical City of Gold. Its legend dates back to the 1500's.
In other media
Television
In "Werewolf vs. Unicorn", an episode of Robot Chicken, Superman hands over El Dorado to the government because of his status of being an illegal alien.
Toys
El Dorado was scheduled to be one of the few Hanna-Barbera original heroes (along with Black Vulcan and the Wonder Twins) to receive an action figure after Samurai. However, the Super Powers Collection line was cancelled before the figures could be made.[1]
References
Community content is available under
CC-BY-SA
unless otherwise noted.