Line 10:
Line 10:
 

==References==

 

==References==

 

<references/>

 

<references/>

−

[[Category:Definitions]]

+

[[Category:]]
---
Revision as of 19:33, 5 February 2013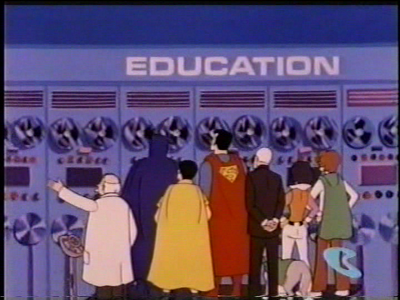 Education refers to a system of schooling in which children are put through to help them to succeed in understanding and learn about life, from common elementary things, to subjects such as mathematics, which could help them for careers as an adult.
There are multiple school grades. In most regions, Grades 1-5 are considered "Elementary school," while grades 6-8 are "Middle school," also known as "Junior High School" and 9-12 is considered "High School." There are also other forms of schooling, called Pre-school, which teaches young kids very easy subjects and prepares them for Grade school. Typically, most kids go through Kindergarten at around the age of five, which is usually a year prior to grade school, which most children attend at the age of six. Other pre-schools are less common but they do exist.
Higher education is designed for High School graduates, for more focused education, for building future careers. Such education can be received at colleges, institutions and universities.
Sometimes schoolwork is done at home, when there isn't enough time for a student to get it done at school. This is called homework. Wendy once told Marvin that if he doesn't work on his homework he's going to be "super stupid."[2]
References