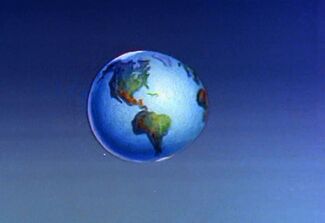 Earth-Forty is the official name of the second oldest official alternate reality of DC comics.[1]
See the DC Database entry on Earth-Forty for more details.
History
Earth-Forty is an alternate universe, first described in Crisis on Infinite Earths: The Compendium (Nov., 2005)
Several Silver Age stories/comics were retconned in The Compendium to Earth-Forty. Theses stories include:
Adventure Comics Vol 1 120
Batman Vol 1 32, 131, 135, 145, 159, 163
Batman: The Dailies 1–3
Batman: The Sunday Classics
The Legend of Wonder Woman 1–4
Thrill Comics #1 (ashcan)
Superman Vol 1 46
Wonder Woman Vol 1 50, 156, 159, 165, 168
Residents
Earth-Forty's first hero was Superboy though he was raised and worked out of Metropolis rather then Smallville.[2]
In 1940 Billy Batson gained superpowers and took up the name Captain Thunder.[3]
During the 1940's Batman, Superman, and Wonder Woman all had adventures during WWII.
Bruce Wayne retired by the mid 1960's to make way for a new Batman and Robin Team. During this time he married Batwoman (Katherine Kane) and eventually retired passing the mantel of the Batman to his son Bruce Wayne, Jr.
Notes
Crisis on Infinite Earths: The Compendium lists entire issues rather than specific stories, leaving the question if any non contradictory stories in those issues occurred on Earth-One, Earth-Forty, or both.
The Compendium lists Thrill Comics, #1 (1940) as happening on Earth-Forty but doesn't count it as a first appearance (possibly because it was an ashcan comic)
The Compendium also doesn't count the 1943 Batman newspaper strip as a first appearance of Earth-Forty either (possibly because it wasn't an actual comic book).
The Crisis on Infinite Earths: The Compendium stated this was "revealed as a distinct parallel Earth in The Kingdom, #2" making this reality part of hypertime.
Queen Hippolyta is depicted as a blond in The Legend of Wonder Woman, #1–4 rather than having brown hair as on Earth-Two.
The Essential Wonder Woman Encyclopedia (2010) doesn't list Earth-Forty and assigns the "Golden Age" Wonder Woman stories to Earth-One resulting in those stories happening with variation on all three Earths.
If one counts Thrill Comics, #1 (1940) as Earth-Forty's true first appearance and Convergence #0's implication that Earth-Two didn't appear until The Flash, #123 then it is one of the three oldest alternate realities officially identified (the other two are Earth-Two-A and Earth-Quality). In any case Earth-Forty is the oldest official hypertime reality.
References
↑ Earth-Forty's first appearance was in the ashcan comic Thrill Comics #1 (1940) but this is beaten by Earth-Quality which goes all the way back to 1937.
↑ Thrill Comics #1 (1940)
Community content is available under
CC-BY-SA
unless otherwise noted.