This page has material from the Super Amigos franchise. This includes any Superfriends or Super Powers material in the Spanish or Portuguese language. Although some material may be canon, others may be subject to dispute.

(This template will categorize articles that include it into the "Super Amigos" category.)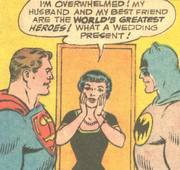 Earth-167 was an Earth located somewhere in the multiverse.
This world was considerably different than most universes. For example, unlike Earth-1A and many other Earths, on this Earth, Bruce Wayne wasn't Batman, neither was Kal-El/Clark Kent the famous superhero known as Superman.
Instead, it was Lex Luthor who was Superman and Kal-El who was Batman.
This section is not yet written.
Appearances
References
External Link