E. Nelson Bridwell
Birthname: Edward Nelson Bridwell

Born: 1931

Birthplace: Sapulpa, Oklahoma

Died: January 23, 1987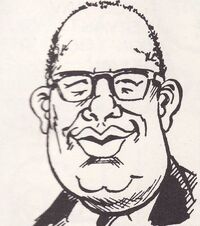 E. Nelson Bridwell (1931-1987) is a writer for DC Comics and a writer for Mad magazine.
He was inducted into the Oklahoma Cartoonists Hall of Fame in October of 2005.
Bridwell passed away on January 23rd, 1987.
Dick Giordano wrote a commemorative editoral for Bridwell which was published in the August 1987 issues of DC Comics.
Bridwell and the SuperFriends
He was the writer of the Super Friends comics from 1976-1981.
In the editorial notes and the side margins of the SuperFriends ComicBook, he refers to himself as the 'Big-E'.