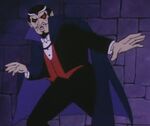 Dracula was the notorious centuries old, blood-thirsty vampire from Transylvania.
Character Biography
In the late '70s, Dracula rises from the grave and begins his quest to turn all humans on earth into vampires. During his conflict with the SuperFriends, Superman, along with Zan and Jayna of the Wonder Twins are transformed into vampires. The rest of the SuperFriends search for a way to cure them, and eventually they defeat Dracula.
Powers and Abilities
Background Information
Dracula is obviously based upon the classic vampire character of the same name, appearing in Bram Stoker's Dracula. Dracula also appeared as a villain in various DC Comic books. He has shown up in animation, particularly the animated film "The Batman vs. Dracula." He should not be confused with Marvel comics version of Dracula,[1] who is also based on the same literary character.
Episode Appearance
References
External Links
Community content is available under
CC-BY-SA
unless otherwise noted.