Super Amigos

This page has material from the Super Amigos franchise. This includes any Superfriends or Super Powers material in the Spanish or Portuguese language. Although some material may be canon, others may be subject to dispute.
(This template will categorize articles that include it into the "Super Amigos" category.)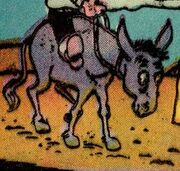 A donkey was a type of horse from the planet Earth.
Humans often used donkeys for horseback riding, although this was really more common in underdeveloped countries then places such as the United States.
Sagebrush Sam once rode a donkey toward Pecos, Texas; which was twenty-miles away from his location at that time.[2]
Appearance
References
↑ As seen in the comic story: Sagebrush Sam (1957).
↑ As seen in the comic story: Sagebrush Sam (1957).
↑ This comic story was published in World's Finest Comics # 91 (1957), which was in part reprinted in Super Friends # 15 (1979).
External Link
Community content is available under
CC-BY-SA
unless otherwise noted.