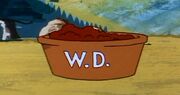 Dog food was food for dogs. Wonder Dog was given dog food by Marvin when they were hiking up Mystery Mountain.[2]
When Doctor Rebos used his camera to take a photograph of Wonder Dog, he told him to "Say 'dog food'!", instead of "Say 'cheese'!"[3]
When an android double of Wonder Dog sabotaged the Venus space probe launch, Colonel Wilcox accused Wonder Dog of being the saboteur, and he asked him how much dog food it took to buy him off.[4]
When Marvin, Wendy and Wonder Dog were being held in a playroom in Rebos' Auto Parts & Wreck Yard, Marvin asked the Wonder Dog android to get Wonder Dog some food, the android bloodhound then pointed to the food and drink machine, but Marvin told him that was human food, not dog food.[5]
There was a variety of dog food in Wonder Dog's Food Storage, including fuzz food.[6]
Types of Dog Food
References
External Link
Community content is available under
CC-BY-SA
unless otherwise noted.