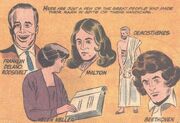 The word disability, referred to the disabled, or handicapped.
The term was usually not meant to be disrespectful to the disabled, but rather quite the reverse, as they were meant to be treated as equals in many cultures, such as the United States.
Still, their treatment varied from place to place, or depending on who they came into contact with.
Disabilities could be anything of a physical nature, such as restricted senses, deafness, blindness and many others.
This could also refer to certain mental illnesses, such as intellectual disabilities and other types of disabilities that could impair a person's ability to benefit from school or another form of education.
People with disabilities and types of disabilities
References
↑ As seen in the comic story: The Case of the Disabled Justice League! (1965).
External Link
Community content is available under
CC-BY-SA
unless otherwise noted.