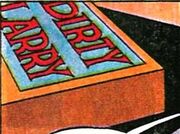 Dirty Larry was a action film about a police officer that liked to shoot the bad guys with .44 Magnums.
It starred Flint Clintwood in the lead role.
In 1990, Movie Buff used his super power to become the star of this movie, in order to have some fun with cute girls in bikinis. When it's learned that he's not the real Clint Flintwood, he was arrested by the Cannes Police Department.[2]
Appearance
Notes
The title of this movie was clearly ripped-off from the real world movie called Dirty Harry, which also starred Debralee Scott.[4]
There was also an unrelated video game called Dirty Larry released in 1992.
References
External Link
Community content is available under
CC-BY-SA
unless otherwise noted.