Debralee Scott
Birthname: Debra Lee Scott

Born: April 2, 1953

Died: April 5, 2005 (age 52)

Birthplace: Elizabeth, New Jersey, USA

Occupation: Actress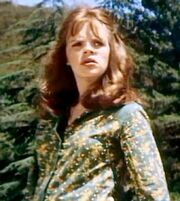 Debralee Scott (aka Lee Scott) played Jenny Nelson in The Secrets of Isis 1975 episode The Spots of the Leopard. She is probably best known for her role as 'Mrs. Fackler' in the 'Police Academy' film franchise, and as 'Marie Falco' in the TV series 'Angie'. She also played a minor role in the film 'Dirty Harry'. She played a 14-year-old girl that was raped and buried alive by 'Scorpio', the villain of the film.
Death
In 2001, her fiancé, Port Authority police officer John Dennis Levi, died during the 9/11 attacks. In March 2005, Scott moved from Brooklyn, New York to Amelia Island, Florida, to care for her ailing elder sister Carol Anne, a producer who worked on many Robert Altman films and who went by the name Scott "Scotty" Bushnell. Her other sister, Jerilynn Scott, is a talent manager in Los Angeles.
Soon after her arrival in Florida, she collapsed and lingered in a coma for several days. She woke up and when asked if she knew where she was, replied, "obviously in the hospital." Since doctors could not ascertain what caused the coma, she was released two days later (on April 2, her birthday), and her spirits remained high. Three days later, on April 5, 2005, she went to take a nap and never woke up. Despite an autopsy, the cause of death remained uncertain. Scott was cremated. Her sister, Carol Anne, died of heart failure on July 13, 2006.
References
External Links
Community content is available under
CC-BY-SA
unless otherwise noted.