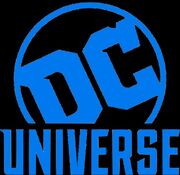 DC UNIVERSE is a video on demand streaming service operated by DC Entertainment and Warner Bros. Digital Networks.
In addition to multiple DC Comics properties, nearly all of seasons one-nine of the Superfriends is be available for streaming at DC UNIVERSE. The only season that is incomplete is season 3, which only has the Challenge of the SuperFriends episodes, but not the other thirty-minute stories, such as Rokan: Enemy from Space and fifteen others.
The New Adventures of Superman and Batman are also available to stream on DC UNIVERSE, as well as the Legends of the Superheroes.
It features a daily news show called DC Daily, which had a special premiere via live stream, and it was hosted by Kevin Smith. The series first episode later launched when DC UNIVERSE launched; on September 15, 2018, which was also Batman Day.
List of programs available through DC UNIVERSE
References
External Link
Community content is available under
CC-BY-SA
unless otherwise noted.