(4 intermediate revisions by one other user not shown)
Line 1:
Line 1:
 

[[Image:DC-Superfriends.jpg|thumb|500px]]

 

[[Image:DC-Superfriends.jpg|thumb|500px]]

−

'''DC Super Friends''' is a [[toy]]line from [[Fisher-Price]] based on the [[Super Friends]] and related [[superheroes]] and [[supervillains]], released as part of their [[Imaginext]] line. Unlike the [[Super Powers Collection]], which was for older kids, the DC Super Friends line was designed for younger pre-school to elementary age children. There are a number of tie-in products such as storybooks, color books and [[DC Comics|comics]]. There was even a new animated episode that came packaged in DVD format with some of the toys. It was called "[[The Joker's Playhouse]]."

+

'''DC Super Friends''' is a [[]] from [[Fisher-Price]] based on the [[Super Friends]] and related [[superheroes]] and [[supervillains]], released as part of their [[Imaginext]] line. Unlike the [[Super Powers Collection]], which was for older kids, the DC Super Friends line was designed for younger pre-school to elementary age children. There are a number of tie-in products such as storybooks, color books and [[DC Comics|comics]]. There was even a new animated episode that came packaged in DVD format with some of the toys. It was called "[[The Joker's Playhouse]]."

 
+
 
+

The comics based on this toyline happened on [[Earth-508]].

 
+
 

==The toys==

 

==The toys==

 

[[List of DC Super Friends toys]]

 

[[List of DC Super Friends toys]]

Line 37:
Line 40:
 

==The cartoon==

 

==The cartoon==

 

*[[The Joker's Playhouse]]

 

*[[The Joker's Playhouse]]

 
+
 
+

==External Links==

 
+

*[https://stage.dckids.com/dc-super-friends Official Website] at [[DC Kids]] [http://www.dckids.com/ Webpage]

 
+

*[https://en.wikipedia.org/wiki/DC_Super_Friends DC Super Friends] at [http://www.wikipedia.org/ Wikipedia]

 

[[Category:SuperFriends series]]

 

[[Category:SuperFriends series]]

 

[[Category:Products]]

 

[[Category:Products]]
---
Latest revision as of 17:12, 22 March 2020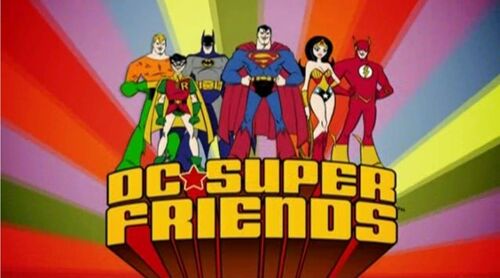 DC Super Friends is a toyline from Fisher-Price based on the Super Friends and related superheroes and supervillains, released as part of their Imaginext line. Unlike the Super Powers Collection, which was for older kids, the DC Super Friends line was designed for younger pre-school to elementary age children. There are a number of tie-in products such as storybooks, color books and comics. There was even a new animated episode that came packaged in DVD format with some of the toys. It was called "The Joker's Playhouse."
The comics based on this toyline happened on Earth-508.
The toys
Comics
The cartoon
External Links
Community content is available under
CC-BY-SA
unless otherwise noted.