This article is a stub.
You can help SuperFriends Wiki by expanding it.
We have prepared templates as a guide to page creation.
(This template will categorize articles that include it into the "Category:Article stubs" category.)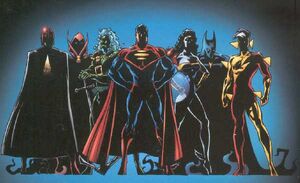 DC One Million is a DC Comics series that crossed over into the Superfriends universe.
It is primarily set in the Pre-Infinite Crisis New Earth reality, in the present and in an alternate future in the 853rd century.
The issues were published in November of 1998 and in August of 1999.
The Comics
There were also a number of tie-ins. For a complete list, go to DC One Million at the DC Database.
Notes
DC One Million was a crossover event published by DC Comics in 1998. It featured a vision of the DC Universe in the 853rd century (chosen because that is the century in which, assuming they maintain a regular publishing schedule, DC Comics will first publish an issue #1,000,000 of one of their current monthly titles. The mini-series was written by Grant Morrison and drawn by Val Semeiks.
The core of the event was a four-issue mini-series, in which the 20th-century Justice League of America and the 853rd-century Justice Legion Alpha co-operate to defeat a plot by the super-villain Vandal Savage (who, being practically immortal, exists in both centuries as well as all the ones in between) and future Superman nemesis Solaris the Living Sun. Every series then being published by DC also put out a single issue numbered #1,000,000, which either showed its characters' involvement in the central plot or gave a glimpse of what its characters' descendants/successors would be doing in the 853rd century.
Hitman #1,000,000 was essentially a parody of the entire storyline. A trade paperback collection was subsequently published, comprised of the four-issue mini-series, and tie-in issues necessary to follow the main plot. The series was then followed by a one-shot titled DC One Million 80-Page Giant #1,000,000, which was a collection of further adventures in the life of the future heroes.
Trivia
The original miniseries was a top votegetter for the Comics Buyer's Guide Fan Award for Favorite Limited Series for 1999. The storyline was a top votegetter for the Comics Buyer's Guide Award for Favorite Story for 1999.
Community content is available under
CC-BY-SA
unless otherwise noted.