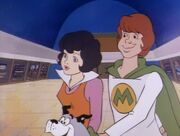 The Crusaders are a team of superheroes native to the planet Earth.
Wendy Harris sometimes referred to the Dynamic Duo as the Crusaders,[2] since Batman is often referred to as the Caped Crusader, but they are technically not part of the actual Crusaders team.[3]
The Crusaders were a fictional team of superheroes whose adventures were published in the pages of comic books during World War II. A group of comic book collectors decided to become real-life Crusaders when they met a man who invented a special device to transform them into their super powered secret identities.[4]
Notes
The Crusaders first appeared in Freedom Fighters # 7 (April 1977).[5]
References
External Links
Community content is available under
CC-BY-SA
unless otherwise noted.