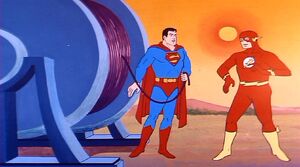 Copper is a type of metal. It is mined from copper mines.[2]
During the Cosmic Crisis, Flash took a coil of copper wire and wrapped it around himself, and ran around the Earth at super speed to generate a reverse magnetism so that he could return Earth back to its' natural orbit, because it was disrupted by magnetism that was pulling it closer to the sun.[3]
Transmission cables are made of copper.[4]
References