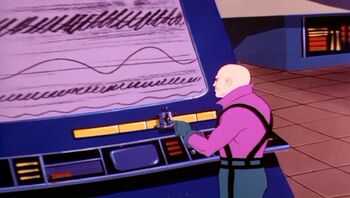 "
The human mind is still the best computer around...
"

A computer was a machine capable of storing information on designated files, and it was also used for solving problems, and it could be programmed to do a wide variety of other things.
Computer technology was an advanced field, and computers from cultures on other planets were likely far more advanced than what was available on Earth during the 20th century, but generally, Earth computers were made up of electronic circuitry, as opposed to Solar Terrarium natives, who likely just used quadratronic circuitry.
Robots were computers that were capable of human interaction, or were designed to carry out physical tasks, rather than performing mental tasks. An android was also a robot, but it was generally humanoid in appearance, or it was made to look more life-like, resembling some other life form (such as the android duplicate of Wonder Dog).
Known computers
This is a list of well-known computers, for a complete list of robots and androids, go to their respective pages.
References
↑ As seen in Wanted: The Superfriends.
External Links
Community content is available under
CC-BY-SA
unless otherwise noted.