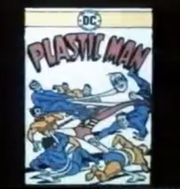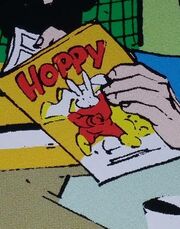 Comics were a form of literature common in newspapers and magazines, which included drawn artwork combined with written text. One comic book publisher was known as DC Comics Inc.[3]
When Jonathan Kent saw the rocket ship that brought Kal-El to Earth, he said it was like something out of the "funny papers."[4]
Crusaders were a group of superheroes published in comics during World War II, and they later became a real team, when fans of the original comics banded together, and were able to mimic the fictional super powers with a special transforming device.[5]
In 1979, when Ed McMahon was in the Hall of Heroes with the Superfriends he said to the people at home watching this event on television "If you're a comic book fan, you know they're all here."[6]
Circa 1980, there were a number of 1950s era romance comics at the Nostalgia Convention.[7]
The animal superhero character known as Hoppy the Marvel Bunny also starred in a comic book entitled Hoppy. Clark Kent once read an issue of that particular comic.[8]
M.O. was reading some old comic pages from older newspapers on a computer screen in the Sentinel's Ship. The two comics he read were about a sheriff in the Old West and a feral child raised by monkeys in a jungle.[9]
Sometimes Metamorpho would read a Justice League Comic Book.[10]
References
External Links
Community content is available under
CC-BY-SA
unless otherwise noted.