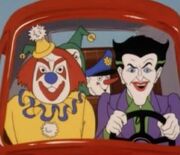 A clown was a circus performer, jester or some sort of comedic entertainer that usually wore a costume and makeup. Some clowns even performed magic tricks, and would even tie balloons into the shape of animals.
The word clown was also used as a form of insulting language to describe someone who acted in such a manner.
For example, someone in a classroom at the High School that acts like a fool may be considered the "class clown."[2]
Known clowns
References
↑ As seen in the Adventures of Batman episode Two Penguins Too Many (1968).
↑ As seen in the Secrets of Isis episode The Class Clown (1976).
External Link
Community content is available under
CC-BY-SA
unless otherwise noted.