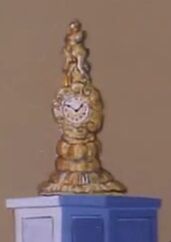 A clock is a device that is used to keep track of time. They are commonly seen as watches on a person's wrist or hanging on a wall in a person's home.
Wonder Dog unplugged the clock at his house when he and Marvin White were under the impression that getting rid of such things would end the Energy Crisis.[2]
There was a vintage clock on display among Mr. Vanderbulge's art treasures at his very own estate.[3]
In an attempt to distract Doctor Gulliver, Superman tells him that his clock has stopped.[4]
Appearances
References
External Link
Community content is available under
CC-BY-SA
unless otherwise noted.