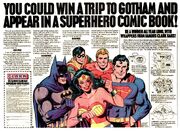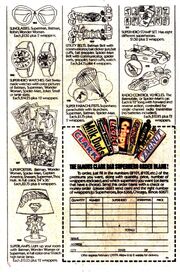 The Clark Bar is a famous American candy bar that was used by Beatrice to promote their Super Friends sweepstakes in 1978.
It was the Superhero Sweepstakes, which allowed people to win the prizes seen below.
First Prize
A trip to New York City to visit the offices of DC Comics, so that an artist could draw the winner into an issue of your favorite comic book. Also, once the comic is published, they will send fifteen copies to the winner's family and friend.
Second Prize
Famous Superhero Watches featuring Superman, Spider-Man, Wonder Woman, Batman and Joker. The watches were made in Switzerland.
Third Prize
A free year's subscription to your favorite DC or Marvel comic book, such as The Incredible Hulk, Thor, Red Sonja, Green Lantern, Plastic Man, Captain America, Wonder Woman, Justice Society, Ms. Marvel, and Little Lulu.
Other Giveaways
For those not participating in the contest, were able to win Super Heroes products by purchasing Clark Bars and other related products and send in their order. These products included:
Famous Superhero Stamp Set

: A stamp set that features eight different superheroes.
References
External Link