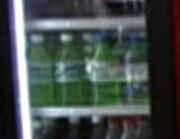 Citrus soda was a type of soda that was flavored with fruits that contained citric acid, such as lemons and oranges.
7 Up and Sprite Soda were both types of citrus soda.
Aquaman once entered a supermarket, walking toward an aisle, and he began dancing to music.
The end caps at the end of the aisle that he was dancing on had refrigerators full of a variety of soft drinks. Among them were 7 Up[3] and Sprite Soda,[4] both of which were types of citrus soda.[5]
List of citrus sodas
References
External Link
Community content is available under
CC-BY-SA
unless otherwise noted.