This page has material from the Super Amigos franchise. This includes any Superfriends or Super Powers material in the Spanish or Portuguese language. Although some material may be canon, others may be subject to dispute.

(This template will categorize articles that include it into the "Super Amigos" category.)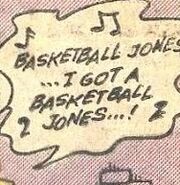 Cheech & Chong was a musical comedy duo that formed in 1971.
They were well-known for their music and comic skits that often focused on the lifestyle of a person under the influence of marijuana.
Members
Richard "Cheech" Marin (born July 13, 1946) was a Mexican-American comedian, actor and writer.
He was born in Los Angeles, California.
He founded Cheech & Chong along with Tommy Chong in 1971.
Thomas Bing Kin Chong (born May 24, 1938) was a Canadian-American actor, director and musician.
He was born in Alberta, Canada in 1938.
He founded Cheech & Chong along with Cheech Marin in 1971.
No data available.
A monkey thought that Rubberduck was a basketball and started dribbling him while singing the Cheech & Chong song Basketball Jones.[2]
Appearances
References
External Link
Community content is available under
CC-BY-SA
unless otherwise noted.