This page has material from the Super Amigos franchise. This includes any Superfriends or Super Powers material in the Spanish or Portuguese language. Although some material may be canon, others may be subject to dispute.

(This template will categorize articles that include it into the "Super Amigos" category.)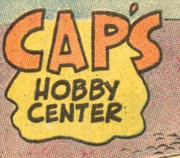 Cap's Hobby Center was a hobby shop owned and managed by a man named Cap.
There were Model Railroads and other hobby related products that were sold in this shop.
It was also used to host the Model Railroad Club.
The original shop was located on a street corner in an old-fashioned building. One one occasion, the Model Railroad Club had a meeting in there, and the loud noise from the toy trains drew the attention of a police officer. When the police officer arrived at the shop, he asked Cap what all the noise was about, and he told him that the Model Railroad Club amplified the sounds to make it seem more authentic.[2]
At some point, Cap's Hobby Center becomes a major franchise business, and the name was changed to Cap's Hobby Shoppe. Booster Gold seemed to be one of the promoters of this company.[3]
Notes
References
External Links
Community content is available under
CC-BY-SA
unless otherwise noted.